Shipping Registry
The Registration of Merchant Ships Act of 1989, amended in 1996, set up the International merchant Marine Registry of Belize (IMMARBE). IMMARBE is under the Ministry of Finance and governs the merchant fleet.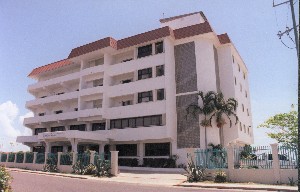 The Head Office, shown above, is located in Belize City. It facilitates and controls all registrations. The Registry operates through a network of Designated offices worldwide.
These officers are empowered to process applications for registration and to issue the relevant documentation. As stated on their official website, on 27th June 2007, IMMARBE received official notification from the United States Coast Guard that for the second year in succession, it has re-qualified for its Quality Shipping for 21st Century (QUALSHIP 21) Program. Belize is 1 of 9 out of 168 flag states in the world holding this qualification in 2006 and the only one in Central America.